El desarrollo de la identidad docente de profesoras de idiomas: de su experiencia del voluntariado a la transformación pedagógica
Palavras-chave:
Identidad, Voluntariado, Grecia, Estudio de caso múltiple, Enseñanza de segundas lenguas
Resumo
Esta investigación se centra en el estudio de los procesos identitarios que cuatro profesionales de lenguas extranjeras experimentan a través de un voluntariado. Los estudios sobre segundas lenguas han sido abordados desde una perspectiva social con especial atención en hablantes y aprendientes (NORTON, 1993, 1995, 2000, 2013; PAVLENKO; BLACKLEDGE, 2004; BLOCK, 2009). Sin embargo, los trabajos sobre los docentes de lenguas han comenzado a recibir recientemente mayor atención (KALAJA; BARCELOS; ARO; RUOHOTIE-LYHTY, 2016; BARKHUIZEN, 2017). El presente estudio cualitativo de caso múltiple analiza la construcción de la identidad profesional en las trayectorias de estas profesoras y de su práctica docente mediante el empleo de narrativas multimodales y entrevistas semiestructuradas.
Referências
BARKUIZEN, G. (Ed.) (2003). Narratives in applied linguistics. Cambridge, MA: Cambridge University Press.
BARKUIZEN, G. (2017). Reflections on language teacher identity research. New York, USA: Routledge.
BLOCK, D. (2007). The rise of identity in SLA research, post Firth and Wagner (1997). Modern Language Journal, 91 (issue supplement S1), 863-876. doi: 10.1111/j.1540–4781.2007.00674.x.
(2013). Issues in language and identity research in applied linguistics. Estudios de Lingüística Inglesa Aplicada,13, 11-46.
doi:http://dx.doi.org/10.12795/elia.2013.i13.01.
DE COSTA, P. I. y NORTON B. (2017). Introduction: Identity, Transdisciplinarity, and the Good Language Teacher, Modern Language Journal, 101(Supplement 2017), 3-14.
GUILLEMIN, M. y GILLAM, L. (2004). Ethics, reflexivity, and "ethically important moments" in research. Qualitative inquiry, 10(2), 261-280.
HATZIDAKIS, O. y GOUTSOS, D. (2017). Greece in Crisis. Combining critical discourse and corpus linguistics perspectives. Amsterdam, NL: John Benjamins Publishing Company. doi: https://doi.org/10.1075/dapsac.70
HENRICH, J; HEINE, S. y NORENZAYAN, A. (2010). The weirdest people in the world? Behavioral and Brain Sciences, 33(2-3), 61-83. doi:10.1017/S0140525X0999152X
HERNÁNDEZ CARRERA, R. M. (2014). La investigación cualitativa a través de entrevistas: su análisis mediante la teoría fundamentada. Cuestiones Pedagógicas, 23, 187-210.
JAMES, W. ([1890] 1961). Psychology: The Briefer Course. New York, USA: Harper and Brothers.
KALAJA, P.; FERREIRA BARCELOS, A.M.; ARO M. y RUOHOTIE-LYHTY, M. (2016).Beliefs, agency and identity in foreign language learning and teaching. Houndmills: Palgrave Macmillan.
KUBANYIOVA, M. (2018). Language teacher education in the age of ambiguity: Educating responsive meaning makers in the world. Language Teaching Research. Doi: https://doi.org/10.11-77/1362168818777533
KUBANYIOVA. M. y CROOKES, G. (2016). Re-Envisioning the Roles, Tasks, and Contributions of Language Teachers in the Multilingual Era of Language Education Research and Practice.Modern Language Journal,100(S1), 117-132.
LACORTE, M. (2015). The Routledge handbook of Hispanic applied linguistics. New York: Routledge.
LARSEN-FREEMAN, D. (2017). Complexity theory: The lessons continue. En L. Ortega y Z. H. Han. (Eds.), Complexity theory and language development: In honor of Diane Larsen-Freeman. Amsterdam and Philadelphia: John Benjamins.
McCLINTON, J. (2005). Transformative Learning: The English as a Second Language Teacher's Experience, CATESOL, 17(1), 156-163.
MUÑOZ BASOLS, J.; RODRÍGUEZ-LIFANTE, A. y CRUZ MOYA, O. (2017). Perfil laboral, formativo e investigador del profesional de español como lengua extranjera o segunda (ELE/EL2): datos cuantitativos y cualitativos. Journal of Spanish Language Teaching, 4 (1), 1-34.
NORTON PEIRCE, B. (1995). Social identity, investment, and language learning. TESOL Quarterly, 29 (1), 9-31.
NORTON, B. (2000). Identity and Language Learning: Gender, Ethnicity and Educational Change. Harlow, UK: Pearson Education Limited.
NORTON, B. (2013). Identity and language learning: Extending the conversation (2nd ed.). Bristol: Multilingual Matters.
ORTEGA, L. (2012). Epistemological diversity and moral ends of research in instructed SLA. Language Teaching Research,16(Issue 2), 216-226.
doi: https://doi.org/10.1177/0267658311431 373
ORTEGA, L. HAN, Z. (eds). Complexity theory and language development: In honor of Diane Larsen-Freeman. Amsterdam and Philadelphia: John Benjamins.
PAVLENKO, A. (2007). Autobiographic narratives as data in applied linguistics. Applied Linguistics, 28 (2), 163-188.
PAVLENKO, A. y BLACKLEDGE, A. (Eds.) (2004). Negotiation of identities in multilingual contexts. Clevedon: Multilingual Matters.
RAMÍREZ FIGUEROA, J. A. (2014). La investigación cualitativa y el estudio de casos múltiples. En Academia.edu:
https://www.academia.edu/7103948/La_investigación_cualitativa_y_el_estudio_de_casos_múltiples
SADE, L. (2009). Complexity and identity reconstruction in second language acquisition (Tesis doctoral). Universidad Federal de São João del-Rei (UFSJ).
WILES, R. (2012). What are Qualitative Research Ethics? London: Bloomsbury Academic.
WILLIAMS, M., MERCER, S. y RYAN, S. (2015). Exploring psychology in language learning and teaching. Oxford, UK: Oxford University Press.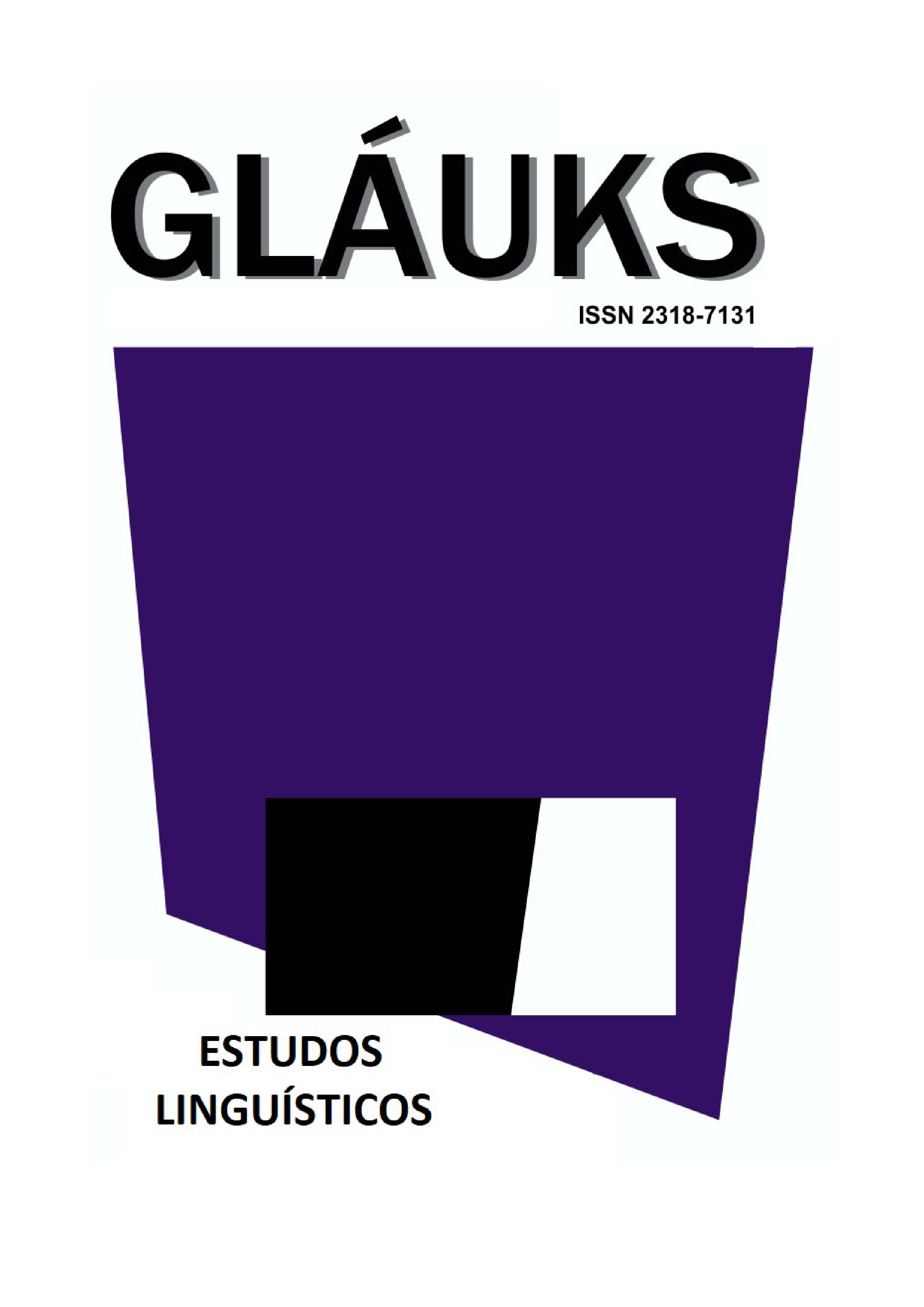 Downloads
Como Citar
Huete-Medina, J. E., & Rodríguez-Lifante, A. (2018). El desarrollo de la identidad docente de profesoras de idiomas: de su experiencia del voluntariado a la transformación pedagógica. Gláuks - Revista De Letras E Artes, 18(1), 73–93. Recuperado de https://www.revistaglauks.ufv.br/Glauks/article/view/78